Penn Fulton Hall
Located on the northeast corner of Fulton Street and Pennsylvania Avenue, Penn-Fulton Hall was an important early building in ENY It served as a meeting hall and as a library for the area before the Arlington Library was built. Discussions to build the library were held here as seen in this August 3, 1901 Brooklyn Eagle article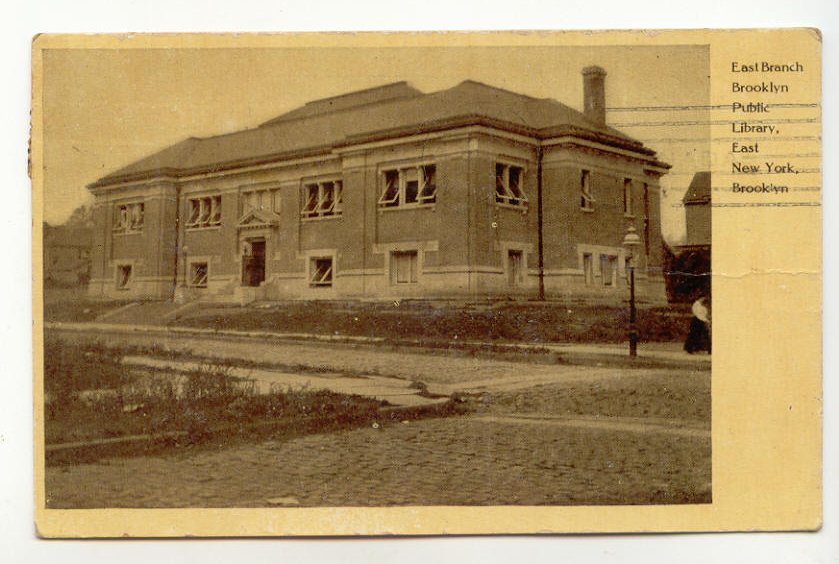 East Branch Brooklyn Public Library, East New York
Maker: Unk Dated:1911 Status: Own(BG)
Early postcard bearing the original name, though it was postmarked 1911 the shot is clearly from 1906 when construction is being completed. It may be the camera angle but Arlington Ave. looks very narrow in that view.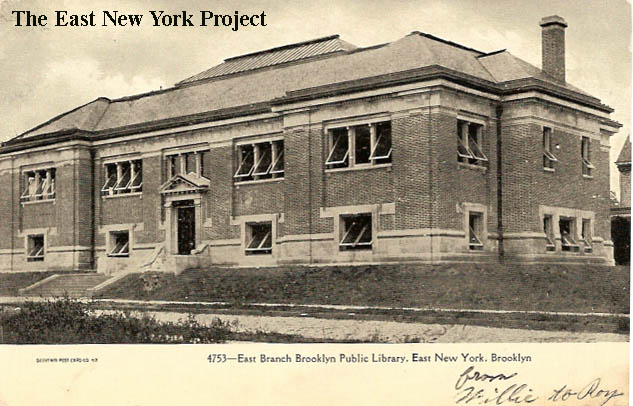 East Branch Brooklyn Public Library, East New York
Maker: Souvenir Post Card Co. Dated:1907 Status: Own(RG)
Early postcard bearing the original name, the shot is probably from 1906 as construction was just ending. There is no railing yet. I'm guessing all the open windows gives a clue the interior had just been painted. Here's an oddity through these postcards. Note the lamppost comes and goes.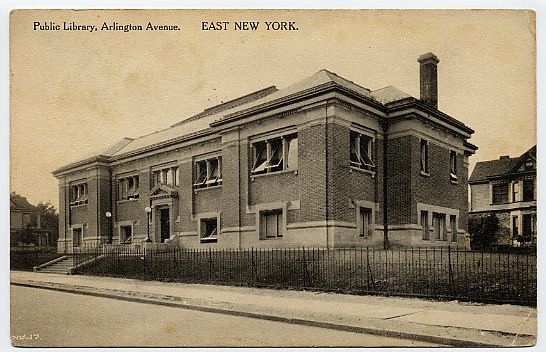 Public Library, Arlington Avenue
Maker: Wm. Fick Dated: 1914 Status Own: (RG)
Later shot with railing in place. Now the lamppost is missing!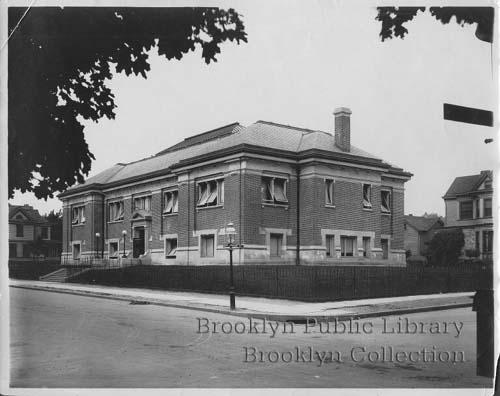 BPL archive photo dated 1909. Now the lamppost is back!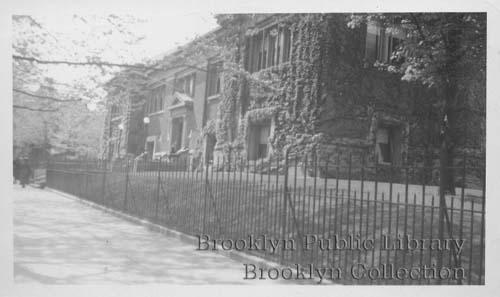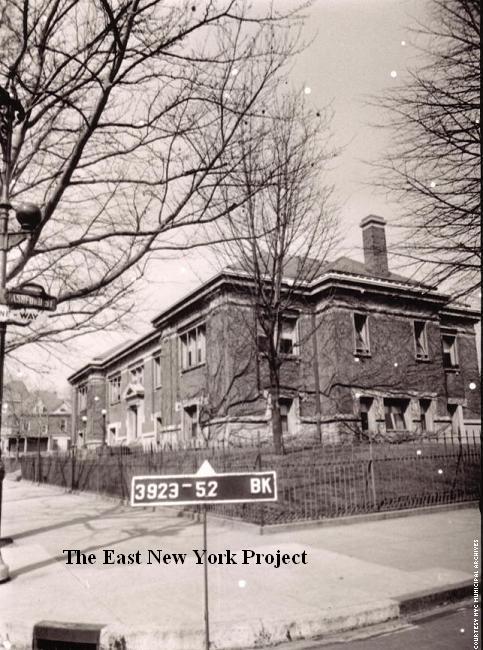 In this 1938 photo you can see the library was once covered in ivy. In the 1941 tax photo supplied by Tim O'Reilly the leaves are off but the branches of ivy are still visible.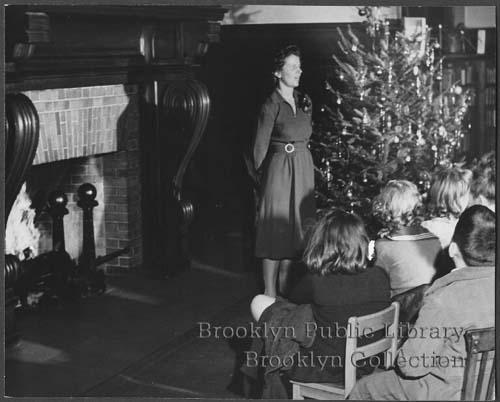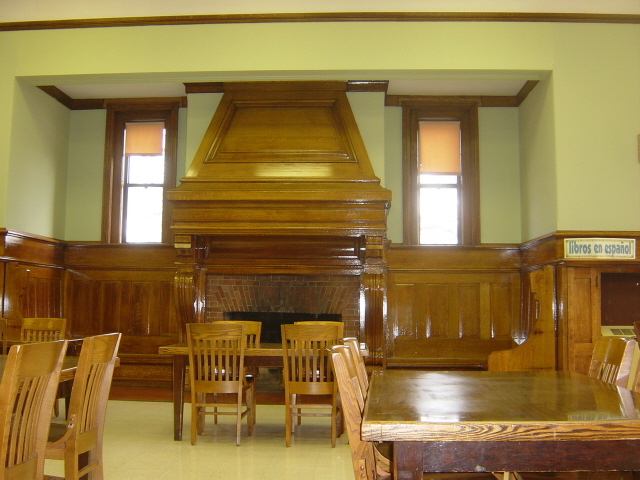 Interior view, fireplace
From Mary Cornell:"...Saturday morning story hour, when they would have a librarian read to the children grouped around the fireplace in the childrens room, at Christmas the fireplace would be lit and decorated with greenery and was so cozy, you didn't want to leave and go home afterwards, fire laws wouldn't allow that today." It's nice to see in my December 2006 update photo that the fireplace is in great shape though its probably no longer in use.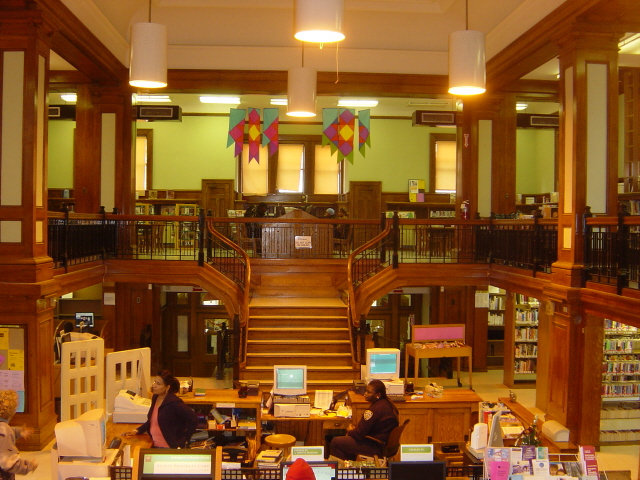 Interior shot#2
Note the 2006 photo is the reverse view, looking west towards the Warwick st. side which is why you do not see a fireplace.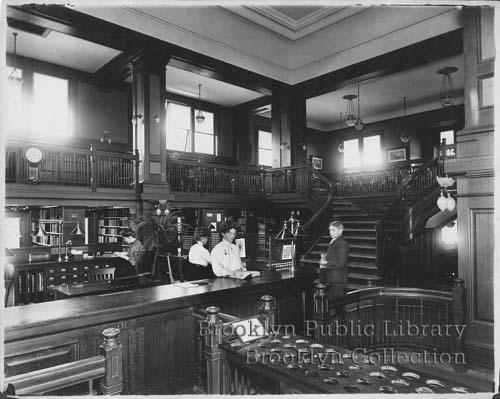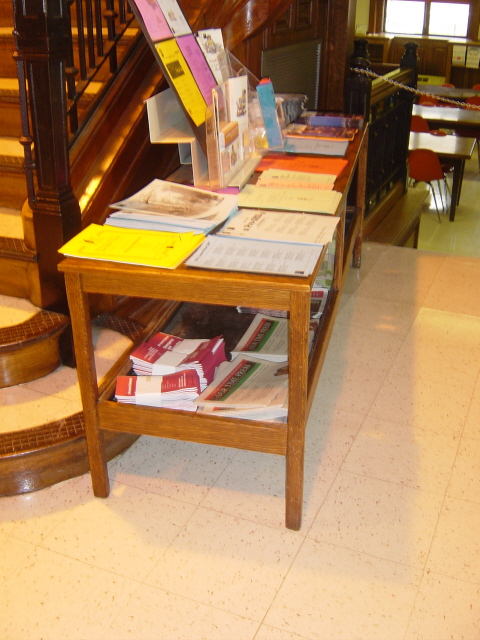 Interior Shot#3
In the lower right, can anyone tell me the purpose of that long table with the circular holes? Judy Close informs me that it was in fact an umbrella stand. When I visited the library in 2006 and mentioned the stand to the librarian, she pointed out to me they still had it and it was used to hold their brochures!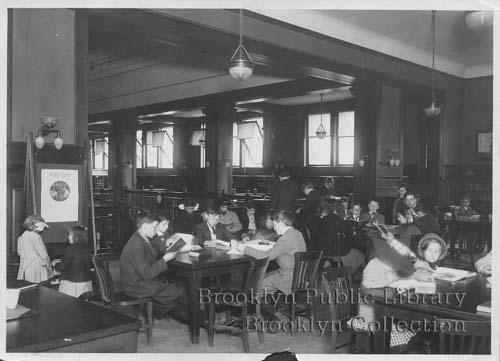 Interior shot#4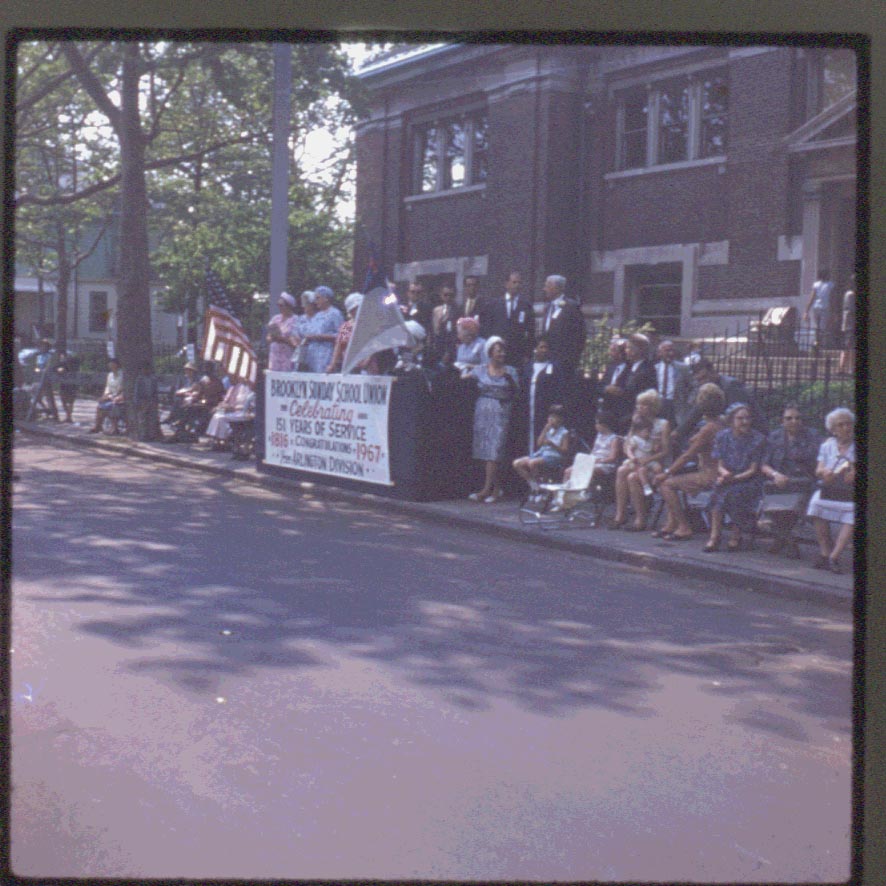 Review stand, 1967 Anniversary parade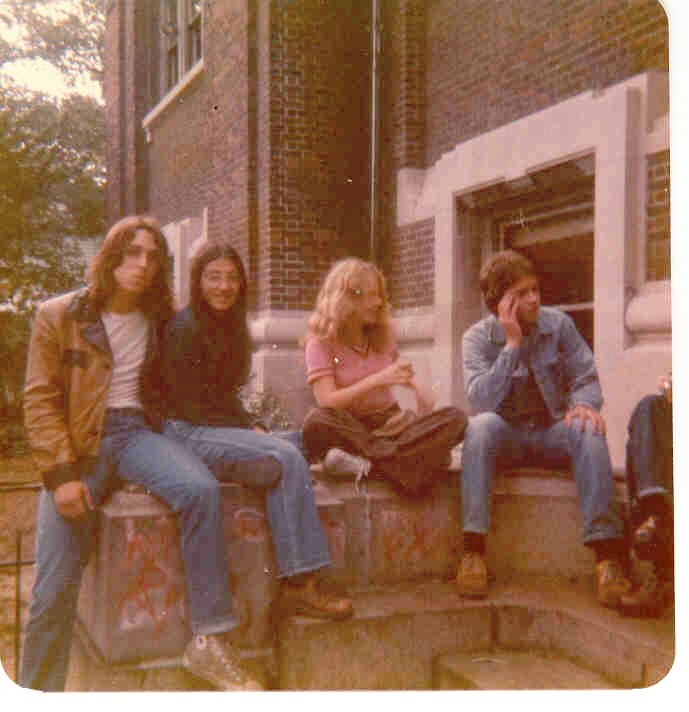 Linda Amato's 1973 photos are a reminder it was always a good hangout. They are also a reminder of the days when it was covered with graffiti.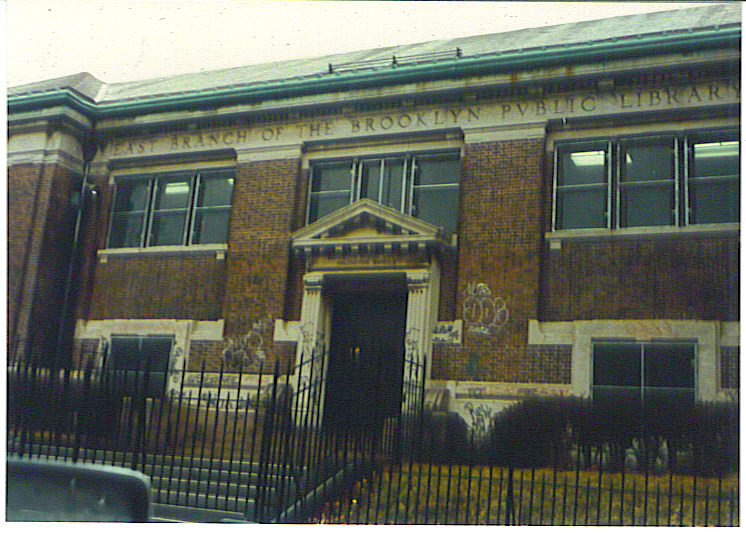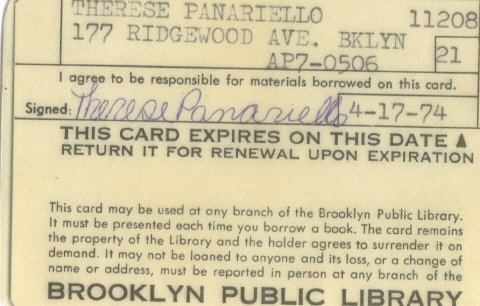 Rod Maggio sent over this 1982 shot with a quaint story; "In the 1940's your hands were checked for cleanliness upon entering; this I understand was a practice from the early 1900's." My aunt doesn't remember this; perhaps it was just the boys? On the right, Therese Panariello sent over a copy of her card from the 1970's.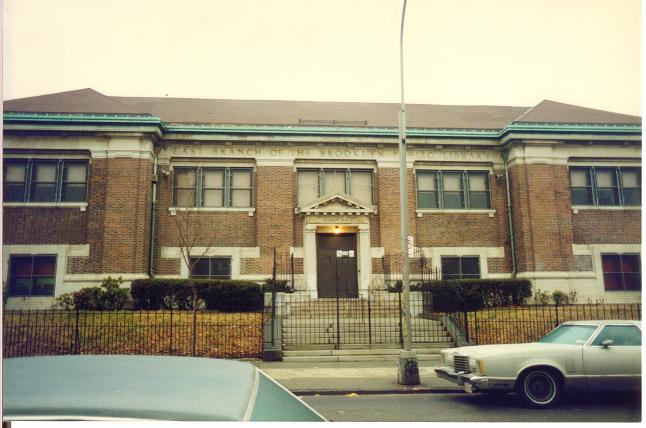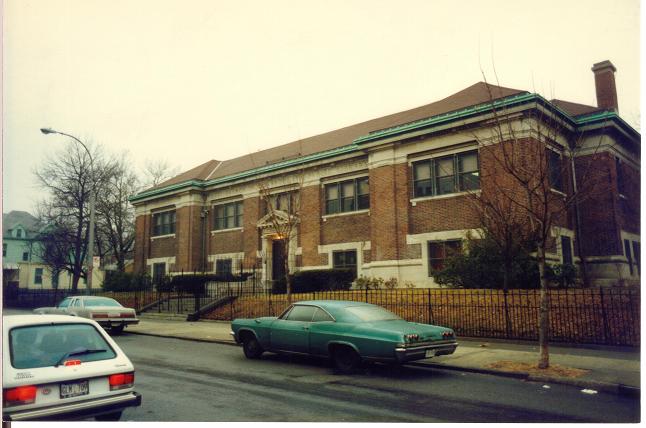 Tim O'Reilly's photoseries from 1990 included these shots of the library.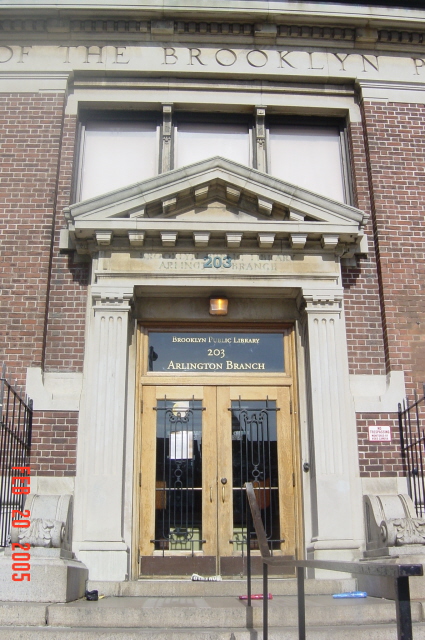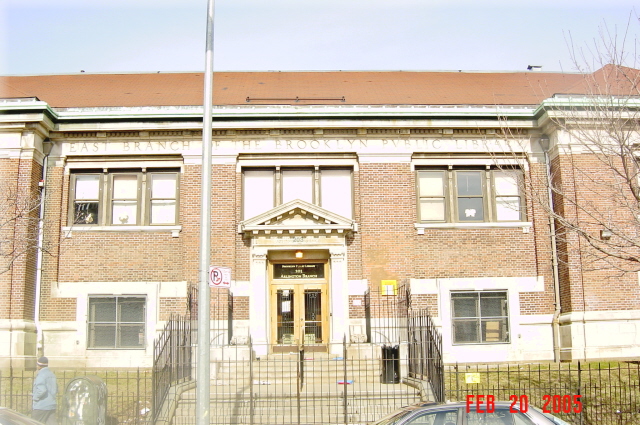 A closeup of the library entrance from 2005, with new doors and no graffiti! Note the fences have been extended up the stairs.